Nigel Matthews - Head Coach/ Director
Background Information/tennis history:

Nigel Matthews
Brief Background & Qualifications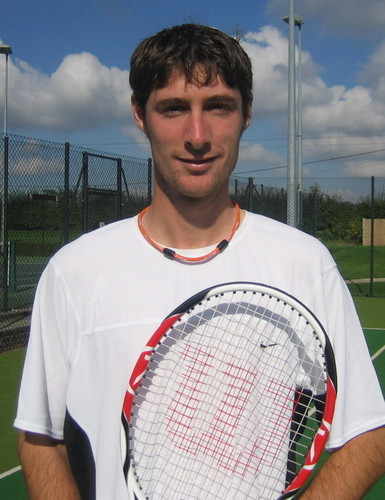 BA (Hons.) Coach Education & Sports Development Degree (1st Class - University of Bath)

LTA Level 4 club coach Qualified & Lisenced (CCA) - currently undertaking Level 5 qualification

Former GB National Ranking 53

Coaching Experience: 14 years

IBM Wimbledon data collector 2006

University of Bath 1st team member (4 years)

Former County champion (Oxfordshire U12/U14/U16/U18 & mens)

Current Sussex Boys U12 County Captain

LTA Sussex Coach of the year 2015
I began my coaching career at the age of 16, having played tennis since the age of 7. Initially, it started with me joining in sessions as a 'hitter' assisting the main coach, and gradually as I gained confidence and experience, I was encouraged to take on more responsibility. At the time I was more concerned with my performance as a player, competing in Regional/National tournaments and representing Oxford United Football club at youth team level.
At 17 years old I took my first coaching badge the "Tennis Assistant" (TA) and started to coach more regularly at Oxford Sports LTC and after-school groups at Esporta Oxford. Upon finishing College with a BTEC National Diploma in Sports Science, I gained acceptance onto a four-year LTA tennis scholarship at the

University

of

Bath studying BA (Hons.) Coach Education and Sports Development. While at Bath I completed the following two LTA coaching qualifications, firstly the "Development Coach Award" (DCA) followed by the "Club Coach Award" (CCA) a year later. Each one takes six months to complete alongside hours of coaching experience.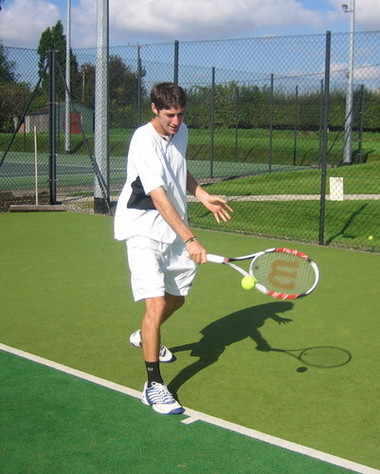 While at Bath I coached the University tennis club while gaining additional experience locally at Landsdown LTC. In the holidays I would coach at Oxford Sports LTC when not travelling to tournaments myself! As a player I competed on the British Tour as well as travelling further afield to International Tennis Federation (ITF) tournaments in Europe, reaching a career high National Ranking of 53 (LTA rating 2.2). At County level I have always enjoyed representing Oxfordshire at both junior and senior level becoming Men's County Champion in 2001.
Before graduating from Bath I suffered a shoulder injury resulting in surgery in early 2006, which allowed me to concentrate on the final year of my studies and turn my attention more closely to coaching. Upon graduating from Bath (1st class) I started coaching full-time at Oxford Sports LTC. It was here where I was exposed to a variety of coaching experiences from beginner adult groups, to high performance squads, to 'taster' sessions on a school playground with thirty 8 year olds, summer camps, individuals, you name it.
I applied for and was offered the job as Storrington LTC Head Coach starting in April 2007, moving to West Sussex to be nearer to my girlfriend (Caroline Goldring) whom I had met at university years earlier. I have thoroughly enjoyed my time at Storrington thus far, seeing the junior section grow greatly alongside the development of school-club links. The club has vast potential with 8 courts (5 astro, 3 hard), club house, and floodlights, which allow coaching all-year round. I have recently employed Caroline Matthews (DCA qualified coach) as Head of Mini tennis due to the demand for coaching, allowing me to establish new groups within the junior section. This is a great boost for the club as she is fantastic at developing children's fundamentals while providing a fun introduction to the game.
And looking forward..........
The future of the club looks rosy with so many enthusiastic juniors playing the game all-year round. The aims are to further establish the club within the community, i.e., school links, promotion of the club within the area, and accessability for all. Within the club I am hoping to develop a competitive structure that encourages matchplay on a more regular basis all-year round. This will include more Box Leagues, matchplays, and tournaments. The hope for the future is that the club begins to compete at a higher level, with juniors competing at County level and progressing into senior club teams, with senior teams winning promotion from their respective leagues.